Get updates by email


Subscribe to this blog's feed
Follow us on Facebook
Follow us on Twitter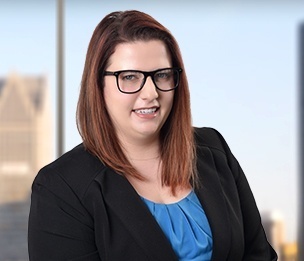 Andrea M. Frailey
Associate
afrailey@dykema.com
313-568-6651
Showing 17 posts by Andrea M. Frailey.
While many Americans are receiving their $1,400 payments from the American Rescue Plan Act ("ARPA"), signed into law on March 11, 2021, employers should be paying attention to the somewhat buried language regarding Families First Coronavirus Relief Act ("FFCRA") tax credits.
Does the ARPA Require Paid Leave? Read More ›
On March 8, President Biden took his first steps in reversing the Trump Administration's Title IX policy by issuing an Executive Order 14021 ("Order") directing the Secretary of Education to review the Title IX rules issued by the Trump Administration.
What does the Executive Order say? Read More ›
On October 22, in a display of bipartisan politics, Michigan Governor Gretchen Whitmer signed four new COVID-19 and employment related bills into law which together provide employer immunity from liability from COVID-19 related claims and protections for employees affected by COVID-19. Read More ›
Unexpectedly siding with the liberal wing of the Court, Justice Neil Gorsuch penned a 6-3 decision in Bostock v. Clayton County, holding that Title VII's prohibition on sex-based discrimination also covers sexual orientation and gender identity discrimination. The Court's decision dealt a historic victory for proponents of expanding gay and trans protections for workers under Title VII of the Civil Rights Act of 1964. It is clear that this decision will have wide reaching implications for employers. Read More ›
As Michigan employers begin to think about how many employees to bring back to work, one option to consider is Michigan's Work Share program, whereby total work hours are spread across a large group of employees as opposed to having fewer employees return to work on a full-time basis. Read More ›
Guidance Focuses on Concurrent Leave Issues, Hours to be Paid During Leaves, and Regular Rates of Pay Applicable
Now that covered employers are providing paid leaves under the Families First Coronavirus Act (the "FFCRA"), more questions about the FFCRA's nuances are surfacing. In an effort to further guide employers who are trying to navigate the new law, the Department of Labor has added to its growing list of FAQs about the FFCRA, which includes clarification of some of its earlier answers. The substantive changes are contained in FAQs 80 through 88, in which the DOL focuses on the calculation of available leave time and regular rates of pay to be used for FFCRA paid leaves. The following will highlight these new guidance topics. Read More ›
As employers try to comply with the new Families First Coronavirus Response Act's (FFCRA) paid sick leave and expanded family and medical leave requirements, the Department of Labor has thrown them a curveball by quietly changing the answers to some of its Guidance about the FFCRA as well as adding 19 more FAQs to its prior compendium. These changes and additions focus on a) how an employer's existing PTO policy may interact with the FFCRA, b) the definition of first responder, and c) the treatment of employees currently on non-FFCRA leaves of absence. Here are some highlights: Read More ›
On April 1, the DOL provided employers with further clarity on the FFCRA by publishing temporary regulations. These regulations will be effective from April 1, 2020, until December 31, 2020—the same effective period of the FFCRA. Also relevant to employers, the IRS issued guidance regarding the FFCRA tax credit. As with our other alerts on the FFCRA, the following highlights key aspects of the new regulations: Read More ›
Though most employers are focused on COVID-19 issues, employers and the government are still multitasking and addressing other issues. The Wage and Hour Division (WHD) of the U.S. Department of Labor is no exception.
Consequently, on March 26, 2020, the WHD issued three opinion letters offering interpretations of the Department's final rule on the Fair Labor Standard's Act (FLSA) regular rate requirements. All three involved different types of income and whether or not they must be included in the regular rate of pay for the purpose of calculating overtime pay. Read More ›
It seems the DOL has stopped sleeping these days, but that means more guidance for employers. In its Qs&As 38-59 interpreting the Families First Coronavirus Relief Act (FFCRA), the DOL shed light on the small business exemption, employees who can be exempted for the FFCRA leave provisions, and the interplay of the FFCRA and the Family and Medical Leave Act (FMLA). The FFCRA takes effect on April 1, 2020, so this guidance is, in a word, timely. Here are some highlights. (Dykema summarized Qs&As 1-14 on March 26, 2020, and Qs&As 15-37 on March 27, 2020.) Read More ›